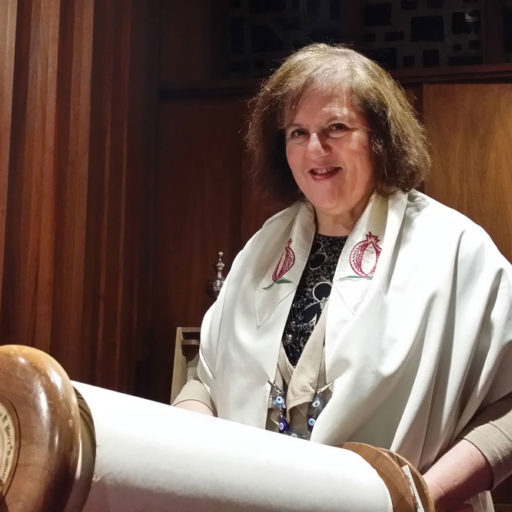 Rabbi Gila Ruskin joined Temple Adas Shalom in 2007 and she was appointed as the congregation's permanent rabbi in 2009. Rabbi Ruskin cherishes the great variety of opportunities she has had to serve as a rabbi since her ordination in 1983 from Hebrew Union College in Cincinnati. For two academic years, she was the full time instructor of Bible and Holocaust Studies at an urban Catholic High School in Baltimore. On Christmas morning in 2006, she and her African American students appeared on the TODAY show as a modern example of Peace on Earth.
Prior to that, Rabbi Ruskin worked for 15 years as the spiritual leader at Chevrei Tzedek, a Conservative congregation in Baltimore, and taught 8th grade Bible at Krieger Schechter Middle School. She has held such diverse roles as: mental health chaplain; pastoral counselor; curriculum development and professional development coordinator for Jewish educators and Jewish camps; university, day school, adult education, and afternoon Hebrew School instructor; spiritual educator in an Oncology unit, leader of multiple teen tours to Poland and Israel, and coordinator of programming for Jewish and African American high school students.
Rabbi Gila Colman Ruskin was born and raised in Detroit, Michigan. She and her husband, Dr. Paul E. Ruskin lived and worked in Baltimore until 2017 when they moved to Philadelphia. They are the parents of three grown children and five darling grandchildren. Her mother, Harriet Colman, age 95, lives in Michigan and is a continual source of inspiration.
Exploring creative and interactive approaches to Biblical texts leading to awareness and action towards social justice is Rabbi Gila Ruskin's passion. In 2013, she served as the co-project director of Opening the Gates: Celebrating 50 Years. She was thrilled to mark the 50th anniversary of the desegregation of Gwynn Oak Amusement Park with thousands of people on July 7, 2013, honoring those who courageously protested and risked harassment and arrest on behalf of justice. Rabbi Ruskin initiated a partnership with Rev. Baron Young and St. James AME Church in Havre de Grace which has resulted in several successful programs. The River of Justice Mosaic was completed by both congregations. Sheikh Omar Balokh and the Masjid Al Falaah joined the partnership and they have pioneered Martin Luther King Day programs that have drawn large, diverse attendance in Harford County.
Rabbi Gila can often be found with her hands in mortar or grout, as she creates her colorful mosaic interpretations of prayer and Scripture. She hopes that you will join her in this dynamic, spiritual mosaic craft that creates a new beauty and wholeness from what was once broken or discarded. Her mosaic pieces adorn our temple building as well as synagogues, homes, and other institutions around the country. She especially welcomes groups to co-create this artwork.
Please contact Rabbi Gila at ra*************@gm***.com if you would like to chat, learn Torah, find spiritual channels of comfort and joy, or to arrange to make mosaics.
"If I am not for myself, who will be for me?
If I am only for myself, what am I?
If not now, when?"
Rabbi Hillel, Chapters of the Sages (Born 110 BCE, died 7 CE)